Welcome to Andaman World Travels Pvt Ltd
Andaman World Travels Pvt Ltd is a recognized with Andaman Tourism Department and Ministry of Tourism, Govt. of India recognized Tour Operator with office in Port Blair, Andaman & Nicobar Islands. We are specializing in Inbound Holiday Packages, Honeymoon Packages, Adventure Activities, Group Tour and Car Rental. An Andaman Local Tour Operator based in Port Blair (Capital of Andaman Islands) with a team of highly experienced and vast knowledge working since 2003. The company founded in 2012 by a group of professionals with rich experience in the Tourism Industry. We aim to provide excellent service to our clients.
Why to choose Us
● We are Local Tour Operator based in Port Blair, Andaman
● No mediator, get best deal without any hidden charge
● 24 x 7 assistance in any of the place in Andaman
● No Third Party, Our Tour Manager is available for any Grievance
● Get Instant refund or Option, if any tour cancel due to bad Weather
● Enjoy your trip with our 20+ years of Experience in Andaman
Read more
The Liability to choose Us
● Registered name "Andaman World Travels Pvt Ltd"
● Registered with Ministry of Corporate Affairs
● Registered with Ministry of Tourism, Government of India
● Registered with Andaman Tourism Department
● Registered under Shop & Establishment, Andaman Administration
● Member of Andaman Association of Tour Operators
Read more
---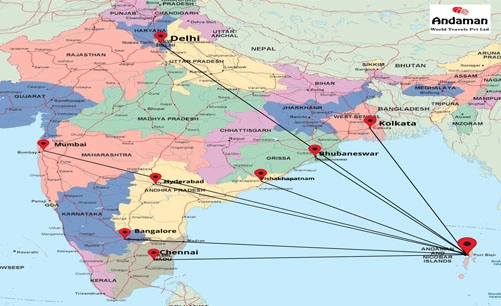 About
Andaman Islands
Andaman is the pinnacle of Southeast Asian splendour and the most stunning union territory in all of India. Andaman & Nicobar Islands are a well-liked vacation destination thanks to their warm hospitable people and divine tropical islands, its bounty and beauty attract thousands of national and international tourists.

The 572 stunning Indian Ocean archipelagic islands that make up the Andaman and Nicobar Islands are dispersed across a bay of Bengal between India and Myanmar. Each island, which together makes up an 800 km arc, is distinct and home to numerous coral reefs and dense tropical forests attracting thousands of tourists from all over the world.

Only 37 Islands of Andaman are inhabited not only have exotic marine life but also have a few historical sites, scuba-diving spots and stunning beaches. With Andaman World Travels Pvt Ltd. you can explore the unseen Andaman, we are known for our wide range of Holiday Packages at reasonable prices and world-class services. Check out best honeymoon packages
Explore Andman with the best
Andaman Tour Packages

with Us
Andaman World Travels Pvt Ltd. is a reputed tours and travels company established in 2003. Being based in Port Blair, the capital of Andaman Island we have a deep understanding of the island and with our strong local presence we offer the best Andaman tour packages serving thousands of customers over the years.

We are renowned for being the top travel operator in Andaman, providing a variety of services, including affordable honeymoon packages and a variety of customisable Andaman & Nicobar packages. Our holiday packages range from a 2N/3D Andaman tour to 7N/8D Andaman and Nicobar packages covering most of the sightseeing spots and adventurous activities such as trekking, scuba diving and snorkeling.

Our primary goal is to provide the highest standards while providing the best customer satisfaction to our clients. We believe that pampering our clients and delivering them value at each stage of their journey is important as they deserve nothing less.
More Details
3 reasons to choose
Andaman World Travels Pvt Ltd

for your next Andaman Nicobar trip?
---
Best Valued Package:
We offer the best-priced Andaman and Nicobar Islands tourism packages with unbeatable services. With our first-hand experience teammates, we have been known for organizing the best holiday package for you for over 2 dances taking care of customers needed to make your trip special.
Transparency in work:
One of the rarest things that make us best tours and travels in India is our promise of having complete Transparency with our customers. We are Andaman's trustworthy and transparent tour operator, we bill out every penny spent on different services included in the selected Andaman tour packages on our final bill.
24x7 Support in Andaman:
You can rest easy knowing that your trip is in capable hands when you choose Andaman World Travels Pvt Ltd. Our crew is accessible 24X7 to meet all of your needs when you are traveling. Get instant responses to all your queries from our professional and experienced support team for the Andaman and Nicobar packages.
Frequently Asked Questions